Advantages of helical gear reducer over spur gear
Views: 2 Author: WeiGao Transmission Publish Time: 2021-09-16 Origin: WeiGao Transmission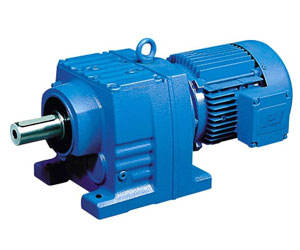 The disadvantage of spur gear reducer compared with helical gear reducer is that they will produce vibration. Whether due to design, manufacturing or deformation, some changes of involute shape may occur along the whole tooth surface at the same time. This will lead to a regular, once per tooth contact, which is often very strong. The resulting vibration will not only cause large load on the gear, but also cause noise.
Another disadvantage of spur gear reducer is that in the contact time, sometimes the additional strength obtained by the meshing of two pairs of teeth can not be used, because the stress is limited by the meshing of single teeth in the cycle.
Then the helical gear reducer is different. Its helical gear can be regarded as a cylindrical gear formed by the dislocation of a group of thin plate gear. In this way, the contact of each plate is in different parts of the tooth profile, resulting in the function of compensating the error of each thin plate gear. This compensation function is very effective for the elasticity of the teeth, and it is also beneficial in terms of bearing strength.
Moreover, manufacturing and assembling a large number of thin straight gears is complex, difficult and uneconomical. Therefore, manufacturers Manufacture connected gears with teeth along the helix direction. Although helical gears are not like spur gears, they can cause poor axial forces. However, the advantages in reducing vibration and improving bearing strength are far better than the disadvantages caused by axial thrust and slightly increased manufacturing cost. Therefore, in the manufacturing of gear reducer, helical gear is mostly selected instead of spur gear.