Planetary cycloid gear reducer
Views: 5 Author: WGT Publish Time: 2022-04-12 Origin: Site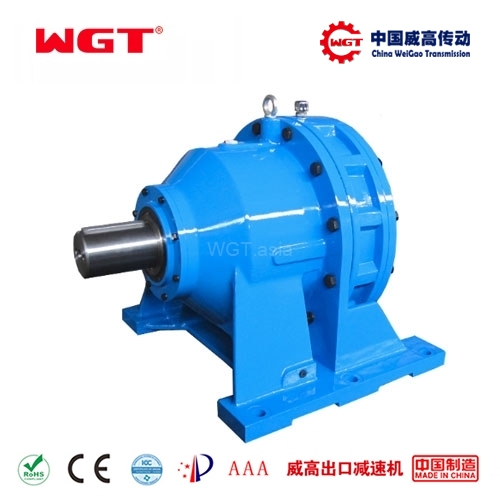 Cycloid reducer is a kind of deceleration mechanism with advanced design and novel structure. It applies the principle of planetary transmission and adopts cycloid pin gear meshing. In most cases, this reducer has replaced two and three ordinary cylindrical gear reducer and cylindrical worm reducer, widely used in military industry, aerospace, metallurgy, mining, petroleum, chemical industry, shipbuilding, light industry, food, textile, printing and dyeing, pharmaceutical, rubber, plastics, lifting transportation and other industries.

Product features
A, cycloid reducer is a new type of transmission mechanism, because the planetary cycloid reducer has the characteristics of high speed ratio, high efficiency, compact structure, small volume, smooth operation, low noise, reliable use, long life, reasonable design, convenient maintenance, easy disassembly and assembly, Its unique and stable structure can replace the ordinary cylindrical gear reducer and worm gear reducer in many cases.
1. High transmission ratio. Deceleration transmission ratio is 1/6-1/87; Two-stage deceleration transmission ratio is 1/99-1/7569; The transmission ratio in the three-stage drive is 1/5841-1/658503. In addition, can be used according to the need of multi-stage combination, speed ratio can reach the specified high.
2. High transmission efficiency. Because the meshing part adopts rolling meshing, the general primary transmission efficiency is 90%-95%.
3. Compact structure, small volume, light weight. Compared with ordinary cylindrical gear reducer, the volume can be reduced by 1/2-2/3.
4. Less failure, long service life. The main transmission meshing part is made of grinding bearing steel, so it has good mechanical properties and wear resistance, and due to rolling friction, fewer faults and long service life.
5. Smooth and reliable operation. Due to multi-tooth meshing in the transmission process, the operation is stable and reliable, and the noise is low.
6. Easy to disassemble and maintain.
7. Strong overload capacity, impact resistance, small moment of inertia, suitable for frequent start and positive and negative rotation.